Ellie joined our family on an icy night in February, February 18th, 2015 to be exact! The breeder called us with the news that her mother, Sophie, was whelping at the same time as another of her females, Shayla, both of which were bred to our boy Max. It was late at night with a major ice storm just starting up, but when the breeder asked if we could help, there wasn't a second of hesitation! When the evening was done, we had managed to deliver 17 beautiful healthy little bundles of fluff! Sophie had 8, including our little Ellie and Shayla had 9! What an exciting night! Given the overwhelming number of puppies and our clear display of dedication, our co-breeder offered us the honor of hosting Sophie's litter. And the rest is history! Sophie and her babies came home with us and we raised our first litter of Golden puppies. It had been several years since we had managed a litter of puppies, but it all came back quickly and what fun it was. We fell in love with every single one of our babies, but Ellie really stole our hearts and has been a wonderful part of our family ever since!
Ellie is a beautiful light color American Golden. She is 60 lbs of pure love and is without a doubt one of the smartest golden retrievers we have ever seen! She is extremely eager to learn and to please and absolutely LOVES fetching anything! Every morning and evening she has her fetch sessions, and we are convinced she can tell time, because she shows up at our side right on time ready to fetch both morning and afternoon. And she does that for dinner time too! She is also quite astounding with all her party tricks whenever guests come over showing off all her incredible skills of sit, stay, down, beg, roll over... She could literally play all day and never tire. But when it is time to settle down, she curls up right at our feet or by our side. She is just a bundle of personality and total perfection! And her health testing is as amazing as she is, click on the PawPrint link below for all the details.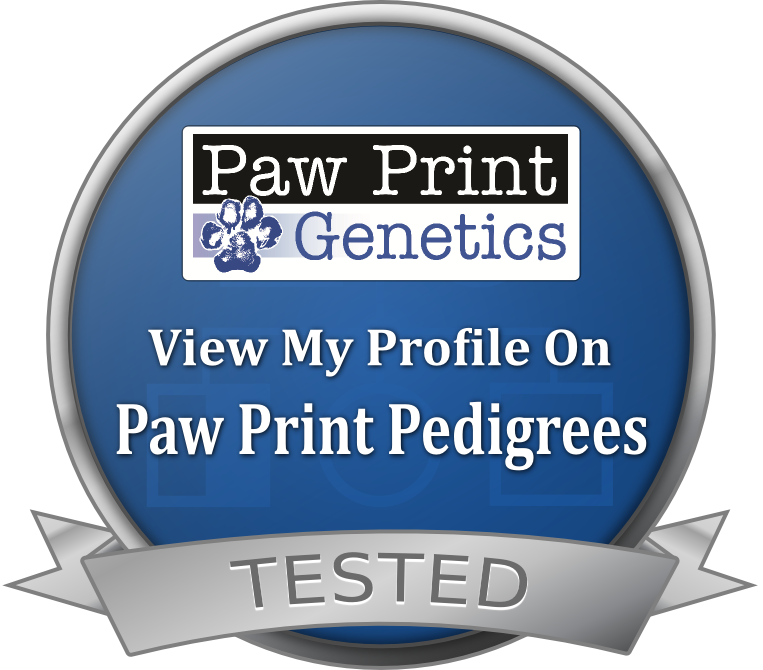 Ellie is now retired. She did such an incredible job being an amazing mom, but it is time for her to now enjoy a more relaxed lifestyle! She is returning to her focus of fetching, swimming, intense snuggle sessions (ok, she never really stopped focusing on any of these!) and is even starting her career in the show ring! Truly the most amazing Golden Retriever!
Even though Ellie is retired from breeding, we are so very fortunate to have two of her gorgeous daughters, Ruth and Tallulah, to continue on the great tradition!
Enjoy the video below showing off Ellie's amazing athleticism...